It's been a busy November for the ScholCommLab! This month, lab members took part in three conferences: the Canadian Science Policy Conference in Ottawa, the United Nations Open Science Conference, and the PKP 2019 International Scholarly Publishing Conference in Barcelona. For those who couldn't make it, we're sharing highlights from each event, right here on the blog.
Canadian Science Policy Conference 
Taking place from November 14 to 16, CSPC is a wide-ranging conference aimed at "uniting stakeholders, strengthening dialogue, and enabling action" on top issues in Canadian science and technology policy. This year's gathering was the biggest yet, with more than 800 participants and 40 panels. ScholCommLabbers Stefanie Haustein and Alice Fleerackers both attended, and each presented panels at the conference.
On November 14, Alice joined fellow science communicators Dorina Simoneov, Cat Lau, and Julia Krolik at CSPC 2019 for Creating SciComm: An Interactive Session Connecting Scientists, Policymakers, and the Public. Hands-on and participatory, their session engaged attendees in infographic-making—a visual communication activity aimed at bridging gaps between public and scientific knowledge.
Participants used paper, markers, glue sticks, and their own creativity to communicate research about four issues of public concern: climate change, artificial intelligence, genetically modified foods, and vaccinations. They collaborated and trouble-shooted to find simple ways to share complex scientific information. The completed infographics—all of which are publicly available online—are evidence of participants' originality, enthusiasm, and willingness to connect with communities beyond the conference.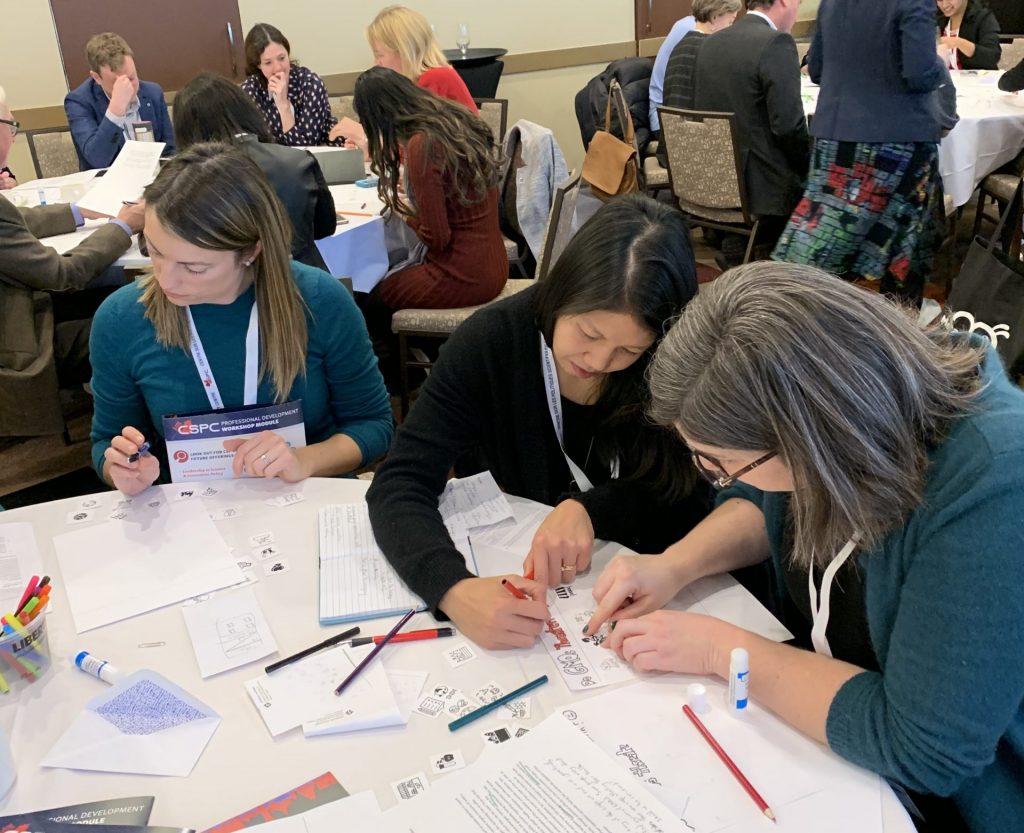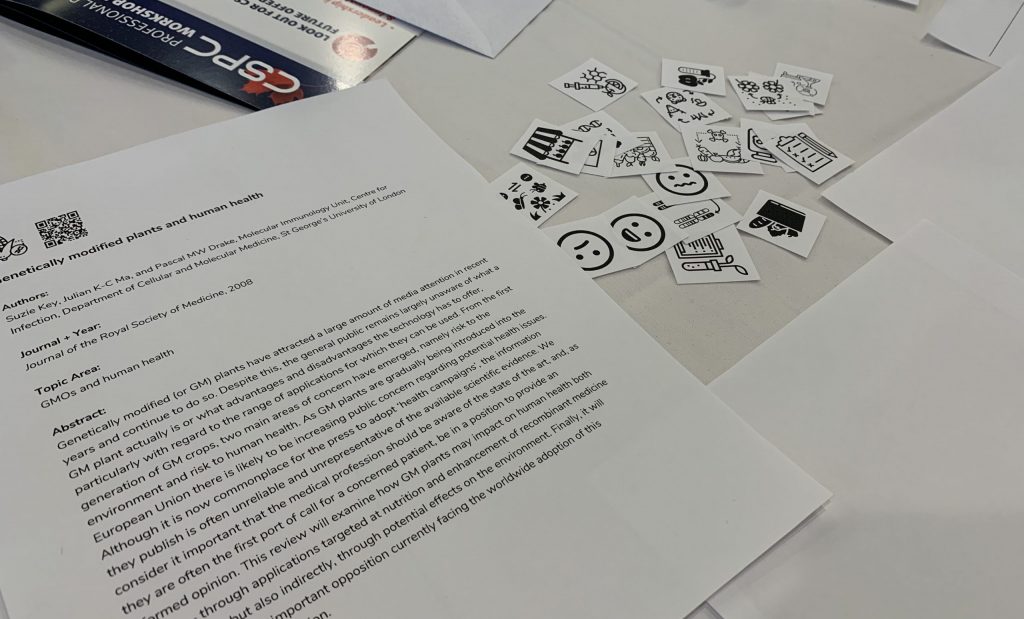 Stefanie's panel, Mapping Dynamic Research Ecosystems: Tapping into New Indicators, Big Data and Emerging Technologies, centred on a very different science policy issue: the future of research analytics. This wide-ranging conversation was organized by the Natural Sciences and Engineering Research Council of Canada, moderated by Eric M. Meslin (Council of Canadian Academies), and featured speakers Elizabeth Boston, Xiaodan Zhu, and Adam Bradley, as well as Stefanie. Together, the panelists discussed the biggest challenges facing research data today, including how to understand and make use of the massive amounts of information available to us, the opportunities made possible by AI, the biases inherent in current bibliometrics practices, and more.
Stefanie also joined a provocative conversation at Fishing for Open Science Innovation: Should Canada Join Plan S? This fishbowl-style discussion invited conference attendees to "pitch new ideas, pose new questions, and debate the merits of Plan S for Canadian Science," according to CSPC. Participants talked through pressing issues such as the feasibility of Plan S, the need for more collaborative and international open initiatives, and more. The conversation that followed revealed just as many questions as answers, as well as some promising opportunities for a more open future.
It was a busy couple of days, packed with presentations and networking. But in the midst of the conference madness, Alice and Stefanie joined uOttawa ScholCommLabbers Alyssa Jeffrey and Tristan Lamonica for some food, conversation, and, of course, a few selfies:
United Nations Open Science Conference
Taking place on November 19, this year's United Nations Open Science Conference was organized by the UN Dag Hammarskjöld Library in collaboration with the Scholarly Publishing and Academic Resources Coalition (SPARC). It brought together open advocates, policymakers, library directors, and early career researchers from across the world to discuss open science and open research at a global level. This year's theme, "Towards Global Open Science: Core Enabler of the UN 2030," focused the conversation on the 2030 Sustainable Development Goals (SDGs) and the role open initiatives can play in meeting them.
ScholCommLab co-director Juan Pablo Alperin gave the opening keynote, setting the tone for the talks and workshops that would follow. His presentation, "Policies & Incentives for Open Scholarly Communication," centred on the role incentives can play in promoting open scholarship. Building on lab research into academic career incentives, but pushed conference attendees to consider other incentives as well.
"Researchers are driven by the big picture, the idea that they're contributing to something greater," he explained. "We need to start focusing on a discourse that goes above individualistic motivations and consider the public role of researchers and universities." Drawing on work by Kathleen Fitzpatrick on the power of generous thinking, he argued that the move toward true open scholarship will require a more "generous" approach—one that positions the university more broadly within society.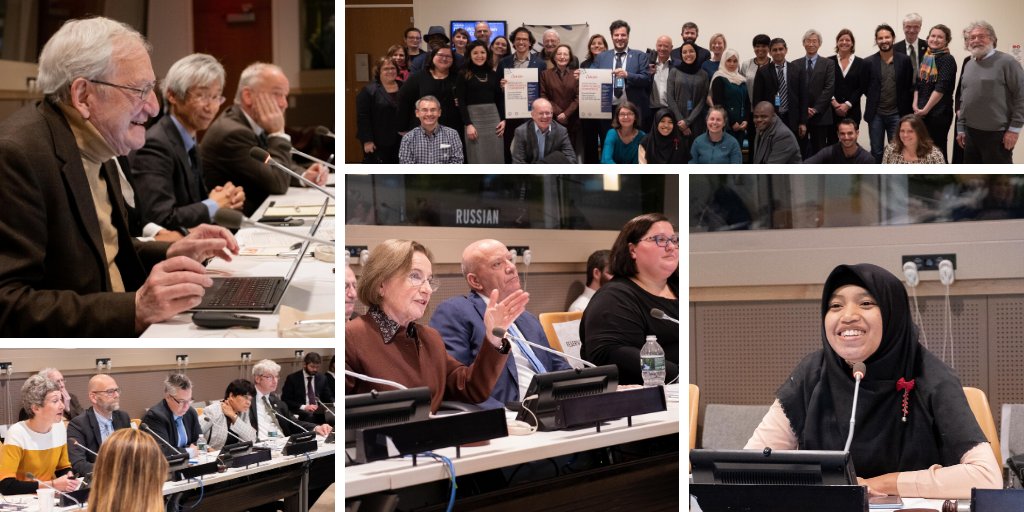 PKP 2019 International Scholarly Publishing Conference 
Finally, the lab wrapped up a packed fall at the Public Knowledge Project's bi-annual conference in Barcelona. This international event engages participants in discussions and workshops about the latest in open access research and publishing. This year's meeting kicked off on November 18 with a two-day working sprint, followed by a day of workshops and two days of presentations from members of the community.
For Juan, PKP's Associate Faculty Director of Research, it offered a valuable opportunity to connect with a global community of individuals and organizations who are contributing to open access publishing. At the conference, he offered a brief overview of some of the projects that the ScholCommLab has been working on as part of its ongoing collaboration with PKP, all of which explore how scholarly knowledge is created, circulated, and used in academia and beyond.
Happy to be home 
After a whirlwind fall, it's great to have everyone in the lab back at their (respective) homes. We'll be back at it in the spring, but, for now, we're enjoying a well-deserved break. Keep an eye out for our upcoming talks and events, and see you in 2020!
For more, check out these video interviews with Stefanie Haustein and Alice Fleerackers at CSPC 2019.