A bridge to access research: Reflections on the Community Scholars Program developmental evaluation
By Andrea Whiteley, with editorial support by Alice Fleerackers
What happens when you provide the community with free access to academic research?
Simon Fraser University (SFU)'s Community Scholars Program (CSP) is a unique initiative that aims to do just that. Established in 2016 in collaboration with the United Way of the Lower Mainland and Mindset Social Innovation Foundation, the program connects more than 500 people working in nonprofits and community organizations across BC with the latest scholarly literature, providing free access as well as research training and support.
While the program has grown considerably since its launch, it hasn't always been clear how participating in CSP benefits community members. Curious to find out more, I met with program librarian Heather De Forest during the final stages of my PhD on Open Access and the Public Good. With support from the United Way, Mitacs, and Dr. Juan Pablo Alperin at the ScholCommLab, my casual curiosity quickly developed into a fully-fledged postdoctoral research project evaluating the success of the CSP.
In this blog post, I summarize key findings and recommendations from the final report (available to download here), drawing on survey data, group interviews, and one-on-one conversations with more than 100 participating Community Scholars.
---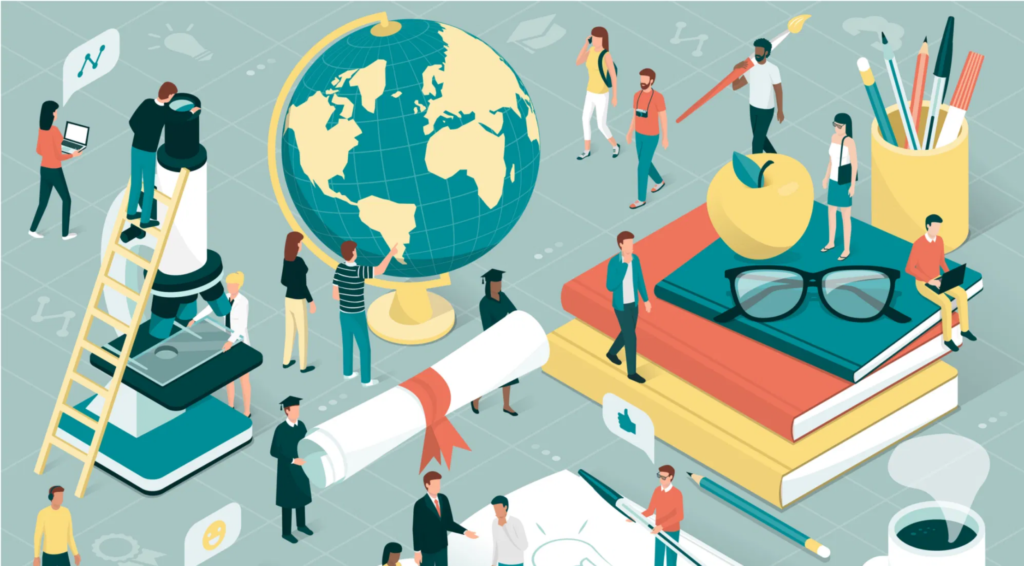 1. Wide-ranging impact
Overwhelmingly, interviews and survey responses with program participants confirmed that the CSP was having both direct and indirect impact on their lives, their organizations, and the constituencies they serve. Scholars reported appreciating personal educational impacts, like improved presentation skills or program development abilities, which they had developed through CSP's professional workshops and training sessions. They also reported benefiting from access to the research itself:
The impact of the CSP on individual scholars also reverberated throughout the communities and in the nonprofit organizations where Community Scholars worked. By contributing to the professional development of employees, organizations were able to tap into a research base for successful grant funding applications, participate in legal challenges, enhance their ability to deliver evidence-based programs, create research and new knowledge in their fields, and more.
---
2. Professional development and lifelong learning
Although over 60% of Community Scholars in the study had graduate level education (and by extension some research background), many expressed an interest in receiving further research-related education. The CSP program currently provides participants with various opportunities for training, which one Scholar called opportunities for "group study" and "self-study."
In surveys and interviews, many Community Scholars said that these opportunities filled a gap in their professional development, allowing them to enhance their understanding of their field, supporting in-house research, and motivating them to learn more about issues in their profession. In a couple of interviews, Community Scholars pointed to a need for adult education programs, like the CSP, that could support people who do not have formal educational credentials in entering post-secondary studies. At least one participant said that participating in the program encouraged them to pursue further education.
---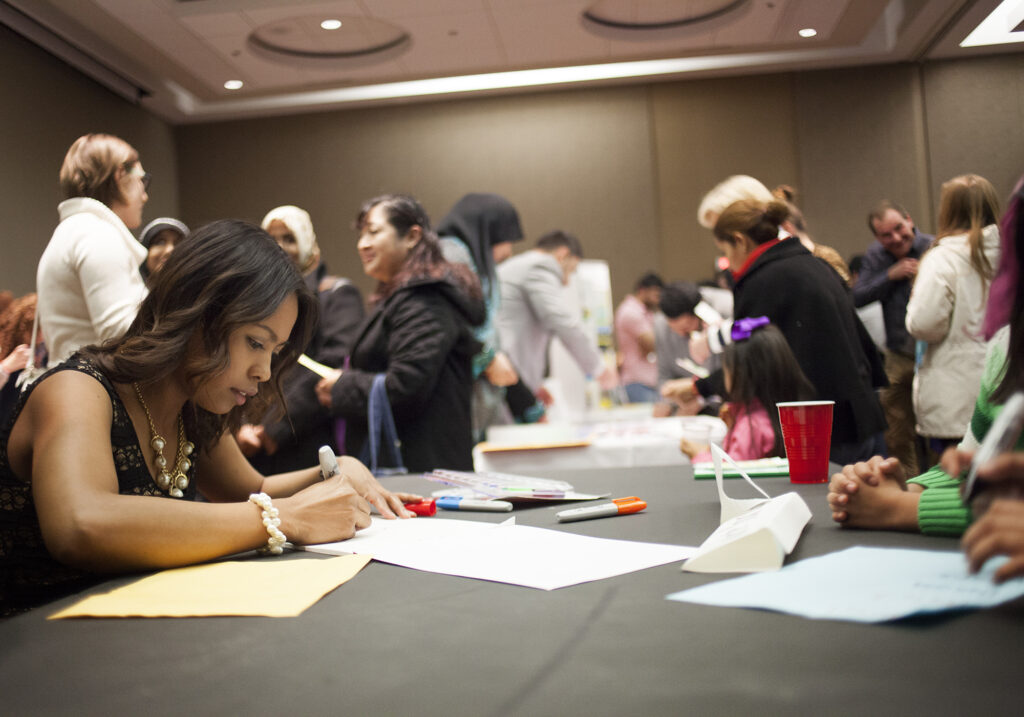 3. The power of communities of practice
The CSP brings together individuals working in the same field through journal club meetings and workshops, offered in person or online. Community Scholars who participated in journal club meetings—where participants choose research articles to read and discuss together—were very positive about their experiences and enjoyed getting to know others working in their field. Sitting in on these sessions, I was struck by how similar they were to graduate student seminars, but where each "student" possessed vast lived experience surrounding the issues under discussion.
Although many Community Scholars expressed interest in participating in more of these "communities of practice" activities, fitting networking and learning opportunities into their busy lives was a challenge. Almost two thirds (60%) of survey respondents said that time was a barrier to full participation.
---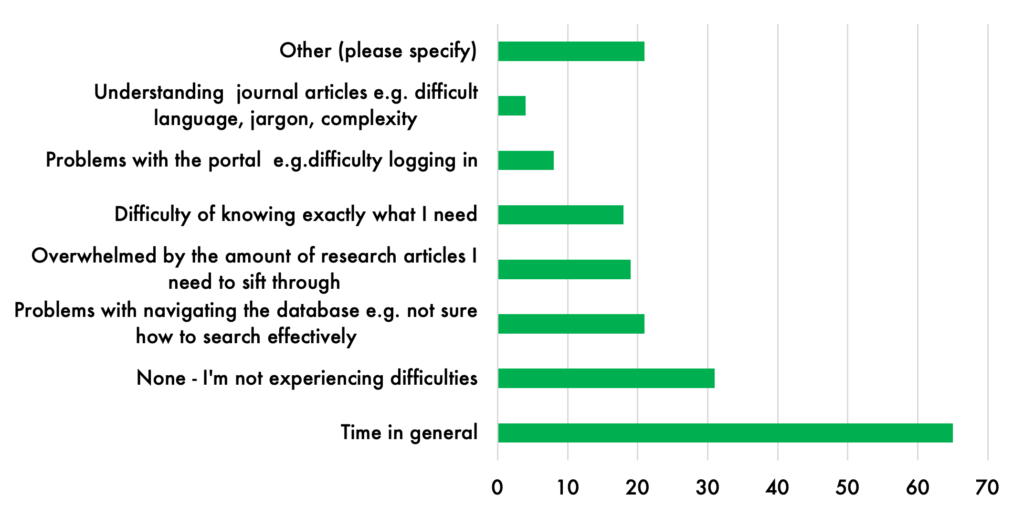 4. Librarians as essential supports
Feedback from Community Scholars confirmed that the program could not have achieved any level of success without the administrative, intellectual, and relationship management provided by the CSP librarians. During interviews, participants indicated that they received valuable assistance from the CSP librarians and were thankful to have them as a resource. Especially for Community Scholars located in remote locations, CSP librarians were the human faces of the online research portal. It was clear that librarians play an instrumental role in the transformation of community members into "Community Scholars."
Importantly, CSP librarians wear many hats and possess diverse skills. Employed at university libraries, they have extensive research skills. But they must also provide other kinds of support to help community members access research through the portal. Librarians demonstrated a range of innovative approaches for recruiting, training, and educating Community Scholars, including using local libraries to host information sessions, offering curated training sessions for organizations, and enlisting colleagues to present workshops on research-related topics.
---
5. A bridge between disconnected worlds
Finally, my research revealed that the CSP acts as a bridge between disconnected worlds, bringing together traditional, for-profit scholarly publishing models with a more "public good"-oriented approach to knowledge access. As the success of the program depends on the willingness of scholarly publishers to allow community access to scholarship, its very existence is a living compromise within a publishing ecosystem where access to research has become a hotly contested topic. During my evaluation, I encountered countless compelling examples of the research impact made possible by bringing these seemingly conflicting realities together.
In a similar vein, my research revealed the potential of the program to act as a liaison between academics and their greater communities. The CSP encourages the flow of knowledge among professional scholars, community scholars, frontline service deliverers, community and nonprofit staff, policymakers, and citizens. Still, some noted that this flow of knowledge was often unidirectional. These comments point to an opportunity for the research community as a whole to develop avenues for two-way communication between scholars and their professional counterparts working in the field, and ultimately, better mobilize the knowledge created beyond university walls.
---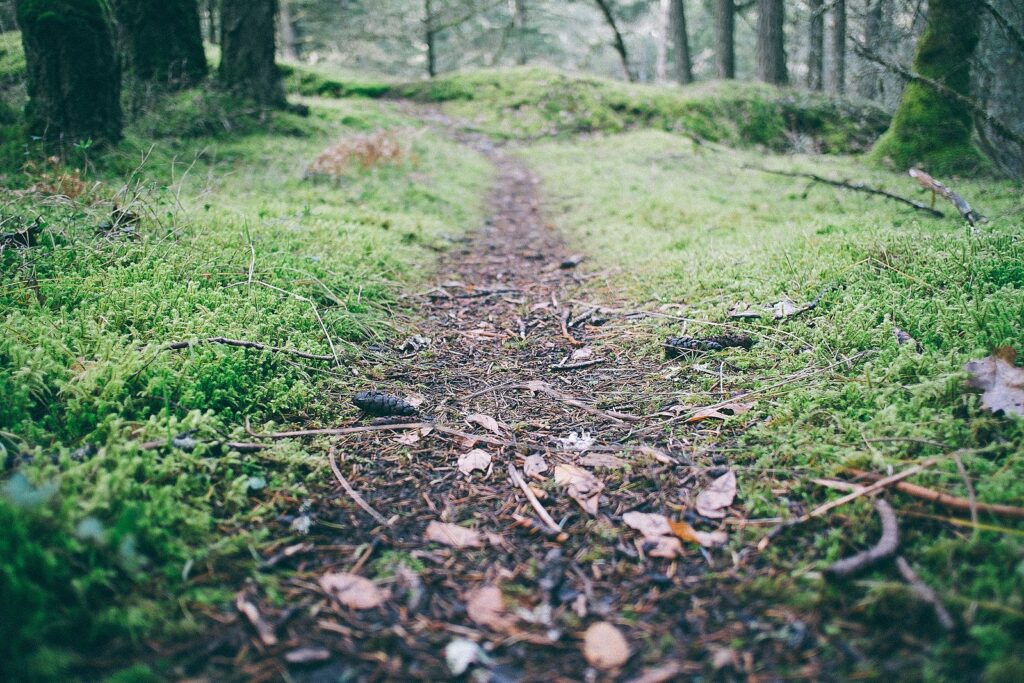 Recommendations for a path forward
While overall support for the CSP was high, several broad recommendations emerged from my evaluation that could improve current initiatives or guide the program into new territory. For example, some Community Scholars expressed interest in the idea of a "research hub" where they could be linked up with graduate students, postdocs, or other researchers to tackle specific research needs within their organizations. As one of the CSP librarians, Kate Shuttleworth, put it:
The CSP already has a relationship with Simon Fraser University's Community Engaged Research Initiative (CERI), making this organization an obvious candidate for further promoting community-based research initiatives and engagement with Community Scholars.
The evaluation also uncovered a need to develop research literacy more broadly, as nonprofit organizations are increasingly challenged by funders to implement evidence-based practices, evaluate program impacts, and understand the research landscape of their respective disciplines. The CSP could provide Scholars with guidance in this area by showing them how to conduct literature reviews, write grant proposals, or find funding opportunities. Large funders, like the United Way, could support such initiatives by clearly communicating expectations for impact reporting and evidence-based programming from a funder perspective.
Finally, a key motivation behind this evaluation was to find ways to sustain the program in its next phase of development. Providing access to research is a cornerstone of the CSP and, although Community Scholars clearly value that access, few if any participants I spoke with felt they could afford to pay for it without the program's support. Although my evaluation did not include a targeted analysis of possible funding and administrative supports for the CSP, my consultation with users and discussions with program leaders indicate this is an area that urgently requires further investigation. For example, the CSP could explore offering an adult education component that would create funding opportunities, particularly if expanded to include a formal "research certificate." The CSP would also qualify for funding initiatives aimed at improving knowledge mobilization and research outreach to the public, especially in remote Indigenous and Northern BC communities.
---
Final thoughts: Fostering connection and culture
Above all, this evaluation made it clear that, while the CSP provides access to research, Scholars also value the "culture of scholarship" that accompanies that access. The CSP fosters a culture of collegiality and sharing, allowing participants to engage with scholarly research while also taking into account the unique features of the nonprofit environment. The program offers many kinds of support to its members, is inclusive of all kinds of "scholarship," and aims to be accessible to those who lack time, resources, or formal research training. This culture of scholarship means that Scholars have a support network when they need it, empowering them in more ways than a single blog post can ever capture.
This research was made possible with funding and support from Mitacs, The United Way, SFU Library, and the ScholCommLab. To find out more about the Community Scholars Program Evaluation, you can read the full report here and access the CSP librarians' response here.